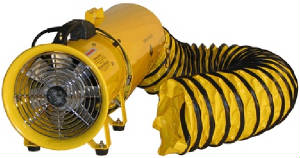 Lightweight high performance tube axial fan. The PCC08 fan is used to exhaust or supply large volumes of air in confined spaces. Equipped with 10 feet of SO cord with a NEMA dead front plug, or two plier type battery clamps.
Extended housing carries 15 or 25 feet of 8" diameter flexible ducting. Ducting is permanently attached, the steel carrier protects the ducting from abrasion, soiling and sunlight. The steel housing is fully welded for strength and durability. The entire assembly is powder coated for a durable, attractive appearance. Comfortable molded handle with shielded on-off switch.
Die-cast aluminum propeller. Blade is powder coated for durability.
Bright plated steel wire guard on both inlet and exhaust meets OSHA safety requirements (no openings greater than 1/2 inch).
Blowers provide 750 CFM free air delivery.